3 tags
6 tags
CheerLights Christmas Tree Topper #arduino...
[Paul Gorman] decided to mod his Christmas tree topper. He added an RGB LED to illuminate his star on top of his Christmas tree. The color that is glows is the latest CheerLights color. The wise men could have used this on their journey.
1 tag
(Huge) CheerLights Christmas Tree
[Randy Farmer] constructed a giant CheerLights tree using strands of G35 Collr Effects Christmas lights. We found the project via Twitter. We love how big it is and how awesome it looks in the dark.
5 tags
LED Holiday Wreath Connected to CheerLights...
[Dennis Adams] built a holiday wreath that displays animated color patterns and the latest CheerLights color. The build steps are on Sector67 with photos - it was great to see parts of the process and see the wreath come to life. The parts include addressable RGB Strip LEDs from Cool Neon (TCLPXL50), an Arduino, an Internet Gateway (laptop), and Ping-Pong balls! [via Hack A Day / Sector67]
4 tags
CheerLights Client for Commodore 64 #C64
[Leif Bloomquist] created a CheerLights display for the Commodore 64 using KipperBASIC. Check out the C64 CheerLights project and get a holiday glow from the 8-bit artistry! I am absolutely loving this implementation of CheerLights. Thanks for bringing back some great memories. The C64 CheerLights logo has filled me with Christmas cheer!
4 tags
Watch Moore's Cloud Light Live! #iot
The team behind Moore's Cloud Light have setup a live video stream of a CheerLights display using a few of their innovative lights. [via Moore's Cloud Blog]
5 tags
Teensy Arduino CheerLights Snowman #perl
[Randy] from Lafayettech Labs created a CheerLights glowing snowman connected to the world via a Teensy Arduino and a bit of Perl code to glue it all together. The translucent snowperson shows its colors with a single RGB LED.
5 tags
CheerLights Nominated for Best DIY Internet of...
The folks here at ioBridge Labs is really honored to have CheerLights be nominated by Postscapes for the Best DIY Internet of Things Project of 2012 - we didn't even have to nominate ourselves, which makes it even sweeter! We are thankful to be included with many fine projects. We happen to think CheerLights is a shining example of the Internet of Things. CheerLights is a global network of...
Adafruit Blog: Wireless CheerLights Tree with... →
1 tag
Adafruit Blog: CheerlightsPi = Arduino + Raspberry... →
3 tags
The Tiny, Arduino-enabled Digispark Supports...
Backers of the very popular Kickstarter project, Digispark, will love to hear that CheerLights will be supported right out of the box by plugging it into an open USB port and adding the $1 RGB shield. We will be getting our Digisparks soon, so we can't wait to share more with you about this cool prototyping device. In the mean time, we recommend that you join their forum and interact with...
4 tags
Smart Star - Arduino, Node.js, and MQTT
Somewhere, Rube Goldberg is smiling. The "Smart Star" project links together many technologies and produces a very nice result. [Martin] created a "Smart Star" that animates and changes color based on the latest CheerLights color on Twitter. He wrote a Twitter API Stream Listener in Node.js that forwards and parses Tweets, publishes them to an MQTT Broker, where an Arduino...
7 tags
CheerLCD Displays the Latest CheerLights Color on...
Milwaukee Makerspace member, Pete, created a new desktop version of CheerLights. With CheerLCD, all you have to do is plug it into an open USB port. Once connected, CheerLCD displays the latest CheerLights color and messages on an embedded RGB LCD screen. The LCD screen is amplified by a 3D printed Christmas tree. The results are beautiful as you can see! We also love that it has a little Perl...
1 tag
Web-connected, Interactive Light on Kickstarter...
Kickstarter is filled with interesting projects pushing the bounds of industrial design, games, and media. And, every once in awhile you find a project that is truly amazing. Enter in… "Light" by Moore'sCloud. This ambitious project is attempting to bring multi-color and animated light to everyone. Imagine setting the ambient light to match colors from your photos,...
6 tags
Updated CheerLights Code on GitHub →
Sample code for ioBridge Iota / IO-204, Arduino, and Digi ConnectPort.
CheerlightsPi = Arduino + Raspberry Pi +...
[Mike] created a really simple, but powerful CheerLights display using an RGB LED to show colors, an Arduino Uno to control the LED, and a Raspberry Pi for network connectivity. The RGB LED in this project requires pulse width modulation (PWM) to set the color. PWM allows you to blend the colors (Red, Green, and Blue) to make other colors such as Orange. The ping-pong ball blends...
4 tags
Wireless CheerLights Tree with Raspberry Pi #raspi
We discovered a stunning CheerLights Christmas tree display over at Flickr. [Rumtopf] built a Christmas tree display made up of RGB LEDs to show the latest CheerLights color. The setup is wireless using a Raspberry Pi with a Wi-Fi adapter. This CheerLights display is absolutely gorgeous. Check out more photos on Flickr and get the source code on GitHub.
3 tags
CheerPaper - sync your desktop wallpaper to... →
[Stephen Wattam] created CheerPaper to change his desktop computer's background to sync up with the @cheerlights project. When the colors change on CheerLights, the background image on your computer also changes to match. This is a really neat way to join in on the project. We are all connected!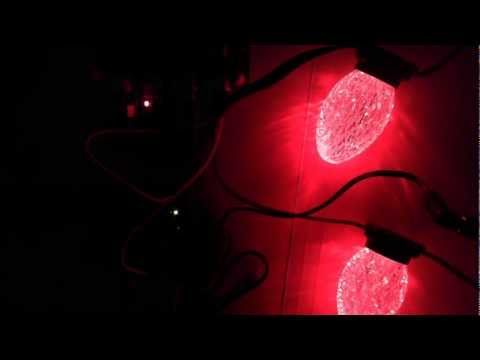 CheerLights v1.1 iPhone / iPad App by SunshineApps →
The talented design team from SunshineApps has updated the iOS app for CheerLights. The app allows you to keep tabs on the latest CheerLights color right from your iPhone or iPad. You can now link your Twitter account with the CheerLights app! And, send tweets directly from your smart device.
2 tags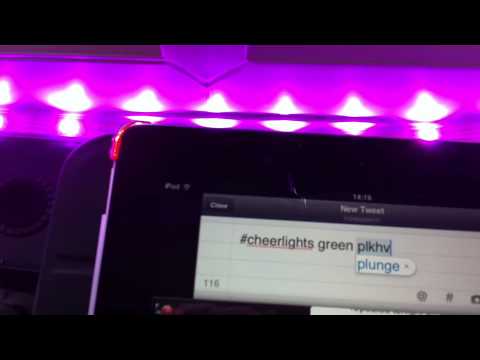 4 tags
3 tags
2 tags
2 tags
1 tag
3 tags
CheerLights Inspired Pictures from Flickr →
We recently discovered the "Beast of Traal" photostream on Flickr and noticed some photos tagged CheerLights. What this designer has created is a webpage that pulls photos from Flickr inspired by the current CheerLights color. It's really interesting to us and we wish we had more information to share. Check out the live site on MikeTilley.com.
1 tag
3 tags
CheerLights on Wired UK and Interview →
Olivia Solon, journalist, blogger and geek with a penchant for animal-themed t-shirts, wrote an article for Wired UK about CheerLights. She wanted to dig deeper and contacted us for more information. Olivia's article includes details on the CheerLights project and interview with the project creator, Hans Scharler of ioBridge. "We live in a time and age that we are close because of...
2 tags
Outside Holiday Lights Controlled by Twitter →
Reb and company added some ColorEffects lights to the outside of their house to connect to the CheerLights project. Just think… you controlling outside lights at this house, plus Christmas trees, and 1000's of other lights and apps with a single Tweet to CheerLights. [via Reb Livingston]
2 tags
CheerLights-enabled Christmas Tree with Color... →
[mlinnen] is using the Color Kinetics ColorBlast to light up his Christmas tree. Normally the ColorBlast 6 is used for outdoor flood lighting, but this makes for a stunning back light to a Christmas tree. Check out BitBucket for the project details and code.
5 tags
Arduino Ethernet + ShiftBrite LED = CheerLights →
Ben Konosky wrote some Arduino source code to allow an Arduino with Ethernet Shield to connect to the CheerLights API (via ThingSpeak) and adjust the color of a ChiftBrite LED module. Ben's trick was to get all of the libraries to fit on the Arduino's file space. This code is highly reusable and should make it easy for those that are making CheerLights with ShiftBrite lights....
"OMG IT WORKED!!! @Cheerlights is the coolest thing ever!"
– @laurenonizzle
4 tags
CheerioBot: It can be your friend or enemy →
It was bound to happen. When you start connecting things, they may turn on you. CheerioBot can be your follower or rebel against your control. This amazing little bot can tweet it's own colors when the CheerLights Twitter feed is slow. It's very interesting to think that this device is essentially in a symbiotic relationship with itself and the rest of the world. As with any...
3 tags
USB CheerLights for your Desktop →
As promised pete@rasterweb posted the details on how he created a USB version of CheerLights for your desktop. The build produces stunning results and seems easy to replicate. I think this will be the gift of the season for next year's holidays.
1 tag
CheerLights on Hack a Day →
Awesome! CheerLights get a mention on Hack a Day: They say that the holidays are a time to gather with others, which usually translates into spending time with friends and family. The folks at ioBridge Labs thought that while friends and family certainly are a big part of the holidays, it would be pretty cool to gather together flocks of strangers by using the Internet to synchronize their...
3 tags
Call or TXT CheerLights for the Latest Color
We created a new app using Twilio + ioBridge to read in the latest CheerLights color from the ThingSpeak API. If you call or TXT the CheerLights Hotline, our app will reply with a holiday greating and the latest color. CheerLights Hotline: +1 385-282-4337 (Call or TXT)  Developers can learn more about it here.
1 tag
CheerLights iPhone App from SunshineApps →
Here's an app for the iPhone that shows you the latest CheerLights color. Now, you can join others connected to the CheerLights project with just a smartphone. Big thanks to SunshineApps for contributing to the project. More info on CheerLights iPhone Apps…
3 tags
Milwaukee Makerspace CheerLights Build →
[Pete] from Milwaukee Makerspace created his own version of CheerLights using Arduino and ShiftBrite. Looks like he modified his cool Light Organ project as a starting point. Bonus points for using a Perl for the Internet of Things. Pete says to check back for more details…
4 tags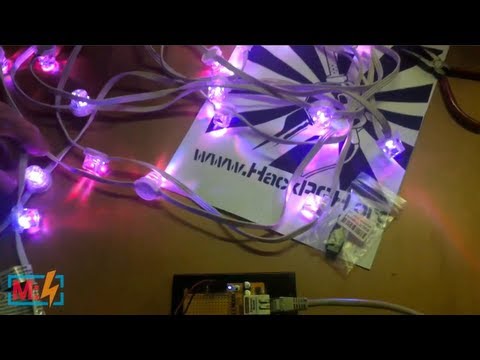 1 tag
CheerLights on MAKE Live! →
We just received the teaser for Episode 22 from MAKE Live and we see a mention of the CheerLights project. Tune in tonight at 9pm ET/6pm PT (that's Wednesday December 14, 9pm ET/6pm PT). We filmed some extra footage at Hack Pittsburgh as you can see in this video still. We are looking forward to seeing the live show!
7 tags
CheerLights Desktop Christmas Tree →
[Jeff] teaches us how to make our very own CheerLights Christmas Tree that can sit on top of your desktop. Using an Arduino and an Arduino Ethernet Shield, this little tree subscribes to CheerLights and shows you the latest color. Check out MAKE Projects for a step-by-step of how to build this awesome little tree.
5 tags
CheerLights Christmas Tree by Austin Robertson →
[Austin Robertson] created a CheerLights powered Christmas Tree that display the latest colors using Arduino and some LEDs. He uses some Python to tap into the CheerLights Twitter feed and mixes colors from a few LEDs to get the latest CheerLights colors. Austin has the complete details, source code, and even a live look at his Christmas tree on his projects site. Visit Austin's...
2 tags
CheerLights with one RGB LED →
Here's a CheerLights hack on the cheap. The goal of this project is to connect any and all. Axel from The Missing Interface Arduino Blog created a CheerLights controller using a single RGB LED that costs $1.95. His blog mentions that more details will be coming soon.
2 tags
"I love the @cheerlights project. Change the color of christmas lights all over..."
– @pyduino
¿Quieres sincronizar conmigo? Nuestros colores... →
Son muchas las cosas todavía por ver en internet. La que os presento hoy me parecía una muy buena idea anoche, cuando la conocía y ponía a prueba con éxito. Se trata de un árbol de navidad iluminado interactivo, que cambia de color según lo que le digamos en twitter.
"Curiosa la idea de cheerlights"
– @dreig